Ice-Fantillusion 2006: Arabian Nights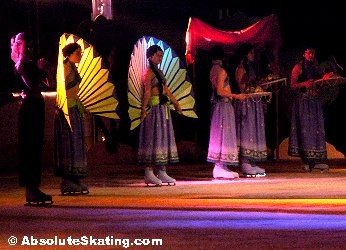 All of us are familiair with some version of the classic story of the street bum falling for a girl far above his reach, but despite hordes and various other complications they still end up in the "happily ever after".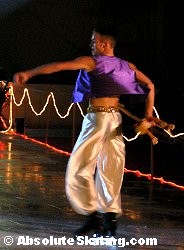 So also in this story "Arabian Night" brought to execution by Kevin Van Der Perren, the skaters from his club KSC Heuvelkouter Liedekerke and several guest skaters.
The maybe pretty common story got an overwhelming effect, brought to the audience by all these marvellous skaters.
In a small town in the middle of the desert lives a simple boy, a monkey being his only friend. During the day they act out mischief and nick food from the market to live on.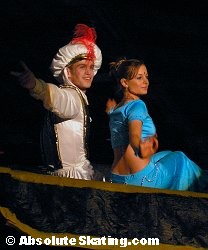 Then one day he meets a beautiful girl and falls in love instantly. The only thing he can do is fantasize about a future with her, but the beautiful girl is a princess and he of low standings can of course, never marry anyone like her... Or can he?
On one lucky day he comes into the posession of a magical lamp, he accidentily rubs it and like thunder on a clear sky, a genie appears. An extremely crazy but oh so vibrant one, and it grants the boy 3 wishes. Everybody can guess what he wishes for.
Unfortunately an evil wizard comes into play, he has his own agenda and steals the lamp from the poor boy. He tries to win the princess´s heart and captures the boy, but the boy isn't that easily defeated and fights off the wizard in a spectacular battle.
And so the boy, his loyal monkey and the genie get the chance to make sure that the princess and he reconnect. The genie magics the boy into a real prince and in the grande finale with fireworks and parades the fairytale ends with the oh, so famous but oh, so heartwarming "and they lived happily ever after".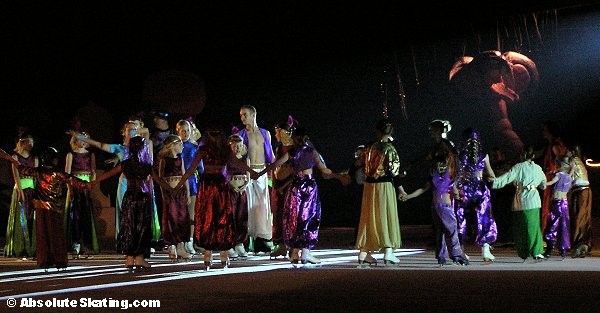 The show was an extraordinary experience. Theater put on ice, by skaters with a spellbinding and intricate choreography, accompanied by gymnasts and their special tricks. The eye for detail was amazing, from the skater costumes to the decors, to the general decorations. Every little thing was accounted for and turned it into an outing to never forget.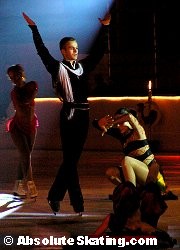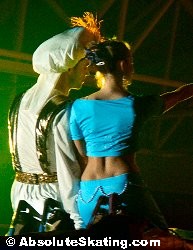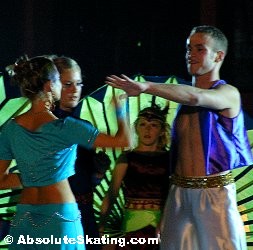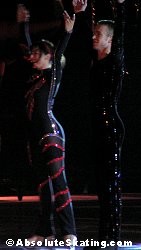 To relive this experience, or just to see it with your own eyes, you can order a DVD with the whole show, mail Marleen de Gols for details.
Watch more pics here:

Photo Album: Kevin van der Perren presents:
Ice Fantillusion 2006
Album on Kevins Homepage

Read more online about the show:
Arabian Night part 1; Kevin van der Perrens Ice Fantillusion 2006
Ice Fantillusion 2006: Olympic Dreams Cutted
Ice fantillusion 2006: Adagio
Go to Ice Fantillusion main page

KevinvdPerren.com